The SKITuations Training Kit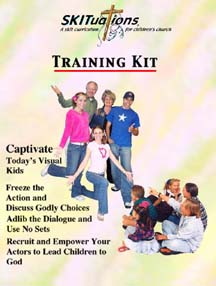 The SKITuations Training Kit provides you with everything you need to begin this life-changing children's ministry program.
The Training Kit is FREE!
(just pay for shipping)
The Training Kit consists of two items: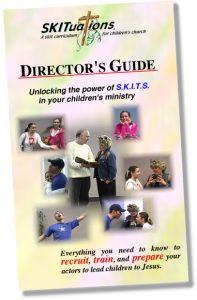 The Director's Guide
This powerful little booklet is packed with over 30 years of children's ministry administrative wisdom!
The Director's Guide includes:
A description of the SKITuations characters

Ways to unleash the power of S.K.I.T.S.

Recruiting tools

Directing guidelines

Ways to keep your cast together

An overview of each Skit Package

A "Mini Catalog"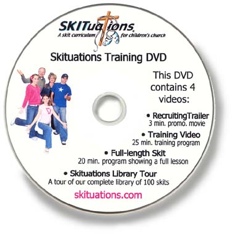 Training Kit DVD
The DVD is designed to be used as a:
Promotional tool (to propose the purchase or beginning of SKITuations)
Recruiting tool (to show to prospective actors)
Training tool (to play during a training session)
The Training Kit DVD contains 4 movies:
The Training Movie – A 25-minute training workshop, using scenes from the skit to teach the "basics" of SKITuations and drama techniques.
The Full-length Skit Movie – A 28-minute movie showing a complete skit with freezes and activities.
The SKITuations Library Tour – A 3-minute look at the themes of our 100 skits compiled in 14 volumes.
The Recruiting Trailer – A 2-minute "commercial" for recruiting the SKITuations actors in the adult service.
You Have Choices!
You can view the Training Kit movies (in 3 parts) below, or you can "purchase" the Training Kit (only pay for shipping), and we will ship the entire package, including the DVD, to you.  Click on the link below to pay for the shipping of the Training Kit.  
The SKITuations Trailer
Included in the Training DVD is a "trailer" that you can use to advertise the beginning of SKITuations at your church.  This 2-minute trailer introduces the program, and can be used as a recruiting tool as well.  You can view it below, or order the Training Kit by clicking on the link below, and it will be shipped to you.