Three Stories, One Message!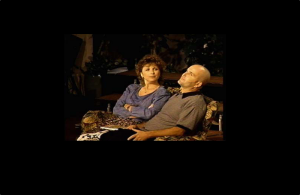 Three In One Skits present three separate stories
being told scene-by-scene, alternating with each other.
The three "scenes" are all on stage at once.  As one scene ends, the lights direct the audience to the next scene that "comes alive" while the other two scenes freeze (in tableau).  The use of this lighting technique assists in the "flow" of the action, but the skits can be done without light pools as well.
When one scene ends, the actors freeze in position; their last line sets up the next scene's first line. Each scene's action resumes exactly where it left off when its turn comes around again. Each scene ends up with the same conclusion or summary statement.
Another variation of a Three In One Skit presents three separate stories being told to illustrate one theme. They take place across the stage, from stage right to stage left, with the first scene freezing at it's conclusion, and the next one beginning when the lights come up on it. Each scene ends with the same conclusion or summary statement.
All three scenes freeze when they are finished, and the pastor has the option of walking right up to them and using them as mannequins to illustrate his sermon. He may prefer to have the players exit the stage, but leave a prop in the scene (like a book or a folder, etc..) that he can pick up and refer to, reminding the audience what this scene was about and why it illustrates the point he is making in his sermon.
This art form is very unique and surprising! A Three In One Skit provides a very memorable introduction, conclusion, or midway example for the pastor as he presents the church sermon. It gives your drama ministry a first-hand opportunity to link with the pastor to create a sermon illustration that will compliment any topical or expository sermon.
.
Click on the title of the script to view a detailed description, or purchase and download the script.  
The script WILL NOT be shipped to you.
After purchasing, you will be given a link to download your script instantly.
Enjoy Some Video Samples
"In A Twinkling"
This "Three In One Skit" deals with being ready to meet Jesus and refers to the core values of real Christians who choose compassion over judgment, love over tyranny, and integrity over compromise. This skit sets up a sermon on the "heart attitude" which identifies true believers.