A Script Within A Script!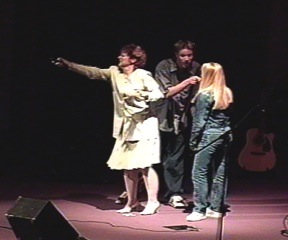 In a 

Christian Monologue Skit

, the central character takes a moment to "think about life"
and delivers a monologue while the rest of the skit freezes.
The events of the skit set the character up for an important emotional reaction that comes in the form of a monologue. The audience gets a firsthand look at the psychological struggle that the events of the skit create.
 This type of Christian drama provides your drama ministry with the opportunity to present two Christian theater forms at once: the skit and the monologue! A Christian Monologue Skit gives your drama ministry a firsthand opportunity to link with the pastor to create a sermon illustration that will compliment any topical or expository sermon.
.
.
Enjoy Some Video Samples
.
Shady Business
Chris puts greed over integrity and delivers this monologue after failing to wear the Armor of God. Six men shadow him, representing the parts of the Armor of God, setting up a sermon on the power of greed to take over our Christian value system and the importance of wearing the armor of God.
.
Seen, But Not Heard
Three monologues seek peace in problem relationships A single mom copes with disappointment; another with allegiances in her blended family; a husband tries to re-connect with his wife; each one sets up a sermon on forgiveness and the power of God to establish healthy relationships.
.
Click on the title of the script to view a detailed description, or purchase and download the script.  
The script WILL NOT be shipped to you.
After purchasing, you will be given a link to download your script instantly.
.