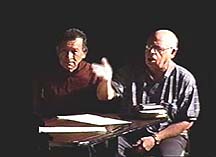 Christian Men's Ministry Scripts center on the issues Christian men face in today's challenging and extremely diverse world. These scripts deal with a wide range of topics from finding the meaning of life through serving God, to establishing a secure self-concept in this competitive world.
Establishing an image of success can become all-consuming and crush a man's spirit. The trials and joys of marriage and family relationships are of critical importance as men balance leadership and sensitivity. Christian parenting in traditional families, blended families, and in single-parent families is an area of spiritual warfare for men and women alike; all of these areas are artfully addressed in this category of Christian drama.
Prioritizing spiritual values and countering the pull toward materialism is a constant challenge, as well as, navigating the political arena of the workplace, not to mention the challenges of the single life and the ever-present spiritual warfare that besets every man who seeks to live the Christian life with integrity.
These diverse topics are sometimes treated with humor and sometimes with heartfelt drama, but always with sensitivity in this InkSpirations menu of Christian Men's Ministry Scripts.
Replace female characters with male characters wherever it is preferable, and give your drama ministry a firsthand opportunity to link with the speaker to create a sermon illustration that will compliment any topical or expository sermon.
We've listed the scripts from various InkSpirations categories that are suitable for men's ministry gatherings.
Click on the title of the script to view a detailed description, or purchase and download the script.  
The script WILL NOT be shipped to you.
After purchasing, you will be given a link to download your script instantly.